If you have even the slightest interest in musicals, then you simply have to catch a show when you go to London. London's West End is a mecca for musical lovers and the area is known throughout the world for its wide selection.
In this article we will look at what West End musicals are running at the moment and supply links where you can conveniently purchase your tickets online.
These shows are popular, so if you want the cheapest prices (and to be guaranteed a spot), it is a very good idea to buy a ticket long in advance.
At the bottom of this post, however, I have a tip for those in London right now, as well as for those soon to travel to the English capital: there may be good money to save by buying last-minute tickets online.
Tickets for the most popular musicals in London
Most musicals in London run for many years. Nevertheless, I will be checking and updating the list below regularly. If you see a musical on the list which you know is no longer showing, please write a comment so I can check up on it.
Are you ready for a true London experience? If so, get yourself a ticket for a musical in London. Here are some of the most popular choices, with these it is highly recommended you buy your tickets from home and well ahead of time.
Mamma Mia musical in London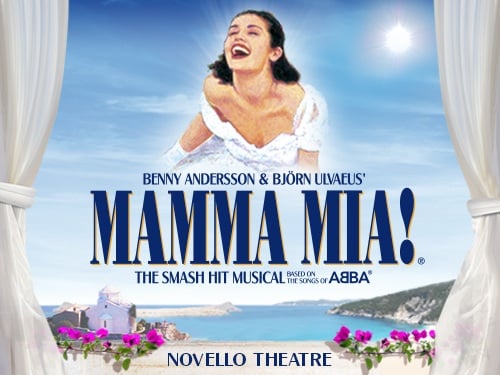 People who cannot sing along to an ABBA song or two are few and far between. The legendary Swedish band remains extremely popular and with Mamma Mia ABBA got a revival of their greatest hits.
Mamma Mia is performed on stage every day in London, so no matter when you go you can get in to see the beloved musical.
The show lasts roughly 3 hours and one gets to hear 27 ABBA songs performed by some of London's brightest musical stars — what's not to like? It is not without reason that Mamma Mia the musical is perennially popular.
Let me emphasize that: Mamma Mia the musical in London is very popular and it is doubly important to buy tickets for the musical from home.
Buy tickets for Mamma Mia musical in London.
The Lion King musical in London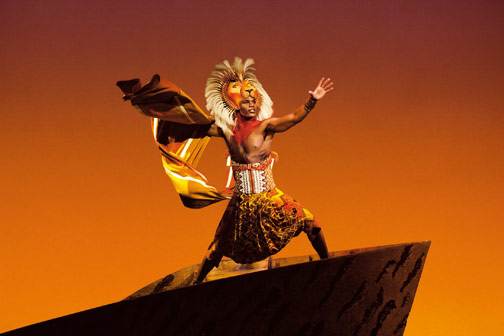 One of the all-time most popular musicals, The Lion King musical is attended by over 800,000 visitors a year — and that's just in London.
Its success has not come for nothing, for the Lion King is indeed a tremendous spectacle that is enjoyed equally by the whole family. If you are traveling to London with children then the Lion King is a particularly good choice.
Once again, it cannot be emphasized enough how important it is to buy tickets for the Lion King musical in London at home. It is without a doubt one of the city's most popular musicals.
The Lion King tells the story of the famous Disney film by the same name but distinguishes itself and impresses with its special effects, incredible set and sound design and a terrific cast. All come together to deliver a truly unique musical experience
The musical is not recommended for children under 5 years old.
Buy tickets for The Lion King musical in London.
Phantom of the Opera musical at the legendary London Theatre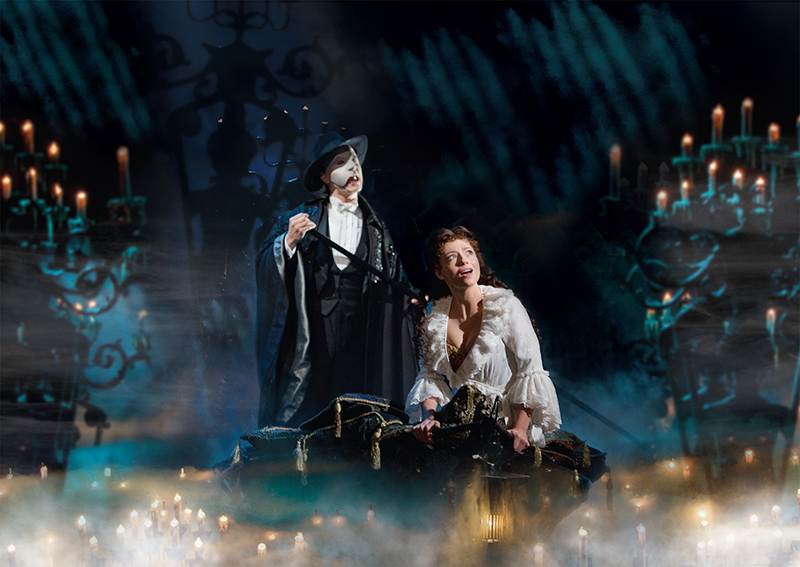 The Phantom of the Opera is one of the longest running musicals in London. It is an assurance of high quality and extraordinary performances when a musical can still draw a full house even though it debuted in 1986.
The musical is performed at the legendary Her Majesty's Theatre, which is located in London's West End and is, on its own, a sight worth seeing. The theater first opened its doors in 1705 and the place exudes theatrical history from its every corner.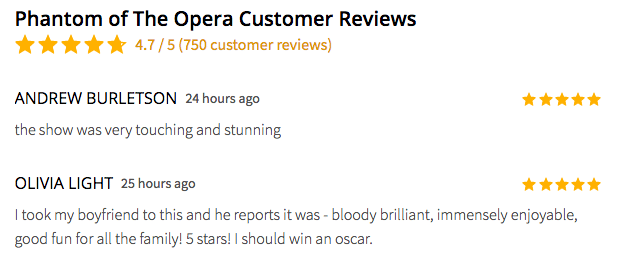 A classic London musical in classy surroundings — it does not get much better than that.
Buy tickets for Phantom of the Opera in London.
Michael Jackson's Thriller musical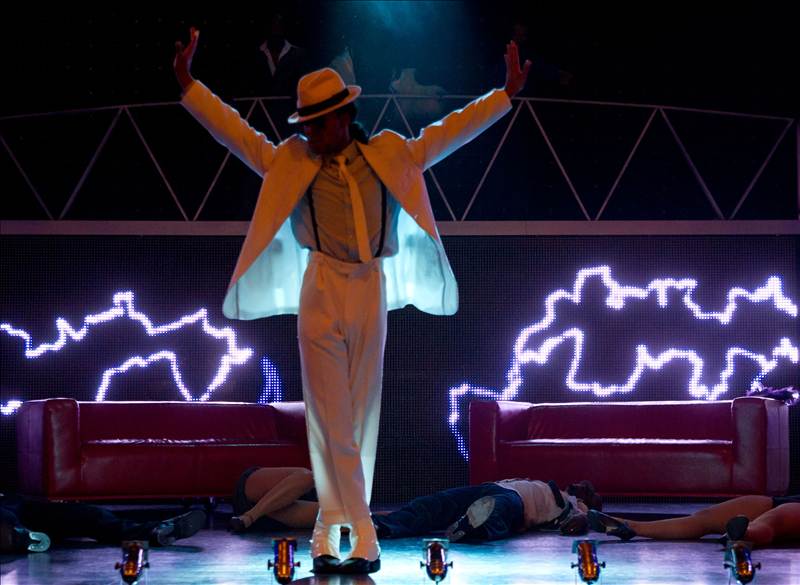 Are you a Michael Jackson fan? Don't cheat yourself out of the opportunity to see Thriller – Live. It may be the closest you ever get to experiencing the king of pop live on stage.
Thriller – Live ranges from the Jackson 5 to Michael's big solo hits. Michael Jackson was about more than just the music, so there is naturally a very large emphasis on choreography in this musical, which has been popular in London for many years.
Hear hits like "ABC", "Smooth Criminal", "Beat It", "Blame It on the Boogie", "Heal the World", "Billie Jean" and many, many more.
Get a taste of Michael Jackson in London:
Thriller the musical lasts about 2 hours.
Buy tickets for Thriller musical in London.
Les Miserables musical in London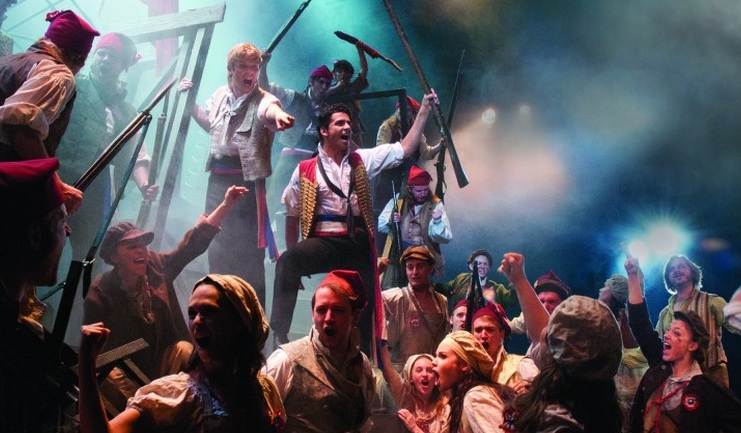 We have another ever-popular musical in London's Les Miserables, which is set during the tumultuous period of 19th century France.
Les Miserables holds the record for most tickets sold for a musical and many believe that, in a way, Les Miserables has revolutionized the musical genre. Certainly, it is no bad choice when deciding which musical to see in London.
Buy tickets online and collect them at the theater box office before the performance, it couldn't get much easier.
Buy tickets for Les Miserables musical here.
Wicked: the musical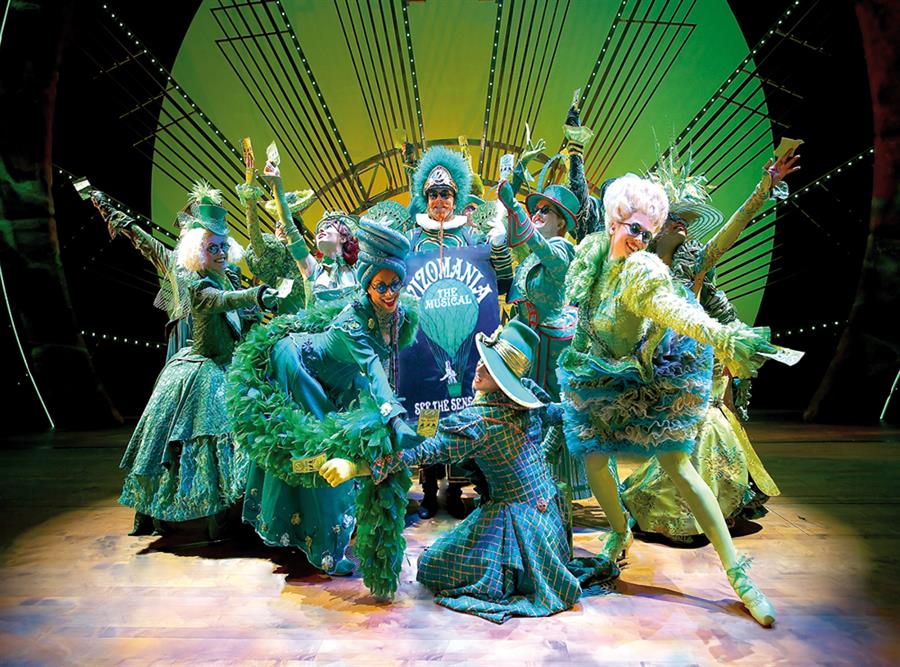 Wicked the musical is playing at the Apollo Victoria Theatre, originally a cinema. The theater seats 2,500 and is located right next to Victoria Station, so it is particularly easy to get to.
Wicked tells the story of the witches of the Land of Oz and is based on Gregory Maguire's novel of the same name, which itself is based on the better-known children's novel The Wonderful Wizard of Oz by L. Frank Baum. The musical has won several prestigious awards and is also amongst the longest running musicals in London.
Buy tickets for Wicked the musical in London.
As a side note, let me just mention that a mere 5-minute walk away from the theater is a fantastic, classic British pub serving some truly excellent pies.
The pub is called The Jugged Hare – read more about it here.
Aladdin musical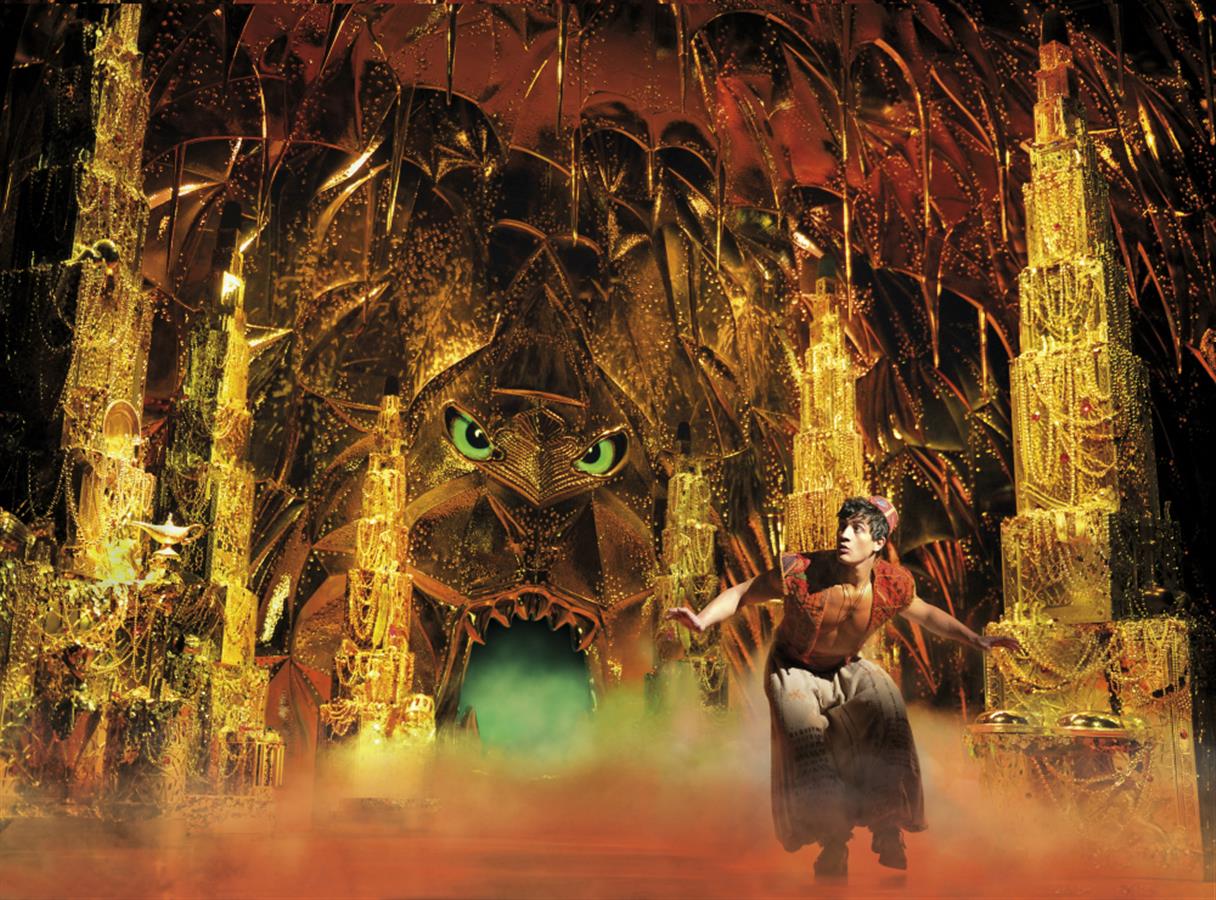 Everyone knows the tale of Aladdin and, just like the Disney film of 1992, this London musical continues to be extremely popular.
Aladdin the Musical is directed by the same director as the previously mentioned Lion King, certifying that it as a top class musical. Thus, one can well afford to have high expectations.
This show is hugely popular with children, and for good reason. So it is another terrific musical in London where children can also have a really good time.
Buy tickets for Aladdin musical in London.
The musicals I've listed above are those most popular at present. Below I will compile a number of musicals that have not received as much attention as the above but are worth, in my opinion, every penny.
The Kite Runner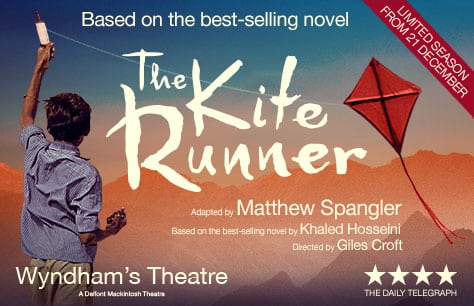 One of the newer musicals in London – The Kite Runner was first published as a novel by Khaled Hosseini in 2003. This world-renowned book has been sold in large numbers all around the world so there is a good chance you may already know a bit of the story.
The Kite Runner was adapted into a film in 2007 and has now also been turned into a musical in London's West End.
As of today, the play holds a rating of 4.8 out of 5 stars, given to it by the audience, so here you have an excellent musical – practically guaranteed.
Read more and purchase tickets for The Kite Runner here.
School of Rock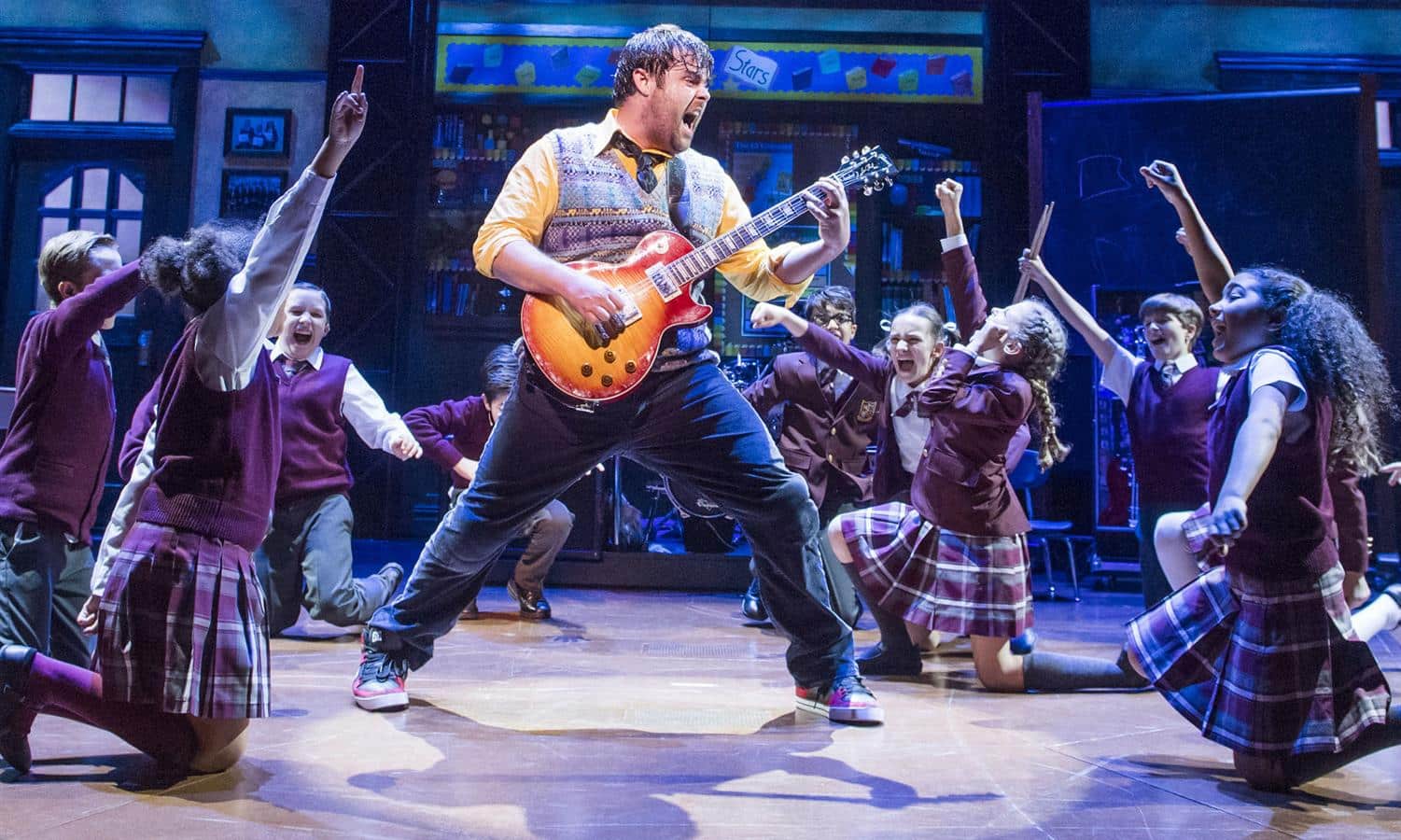 Like several of the above, School of Rock has also been made into a film, and now in the New London Theatre on Drury Lane, central London, the School of Rock musical plays on a daily basis.
Just like the movie, the musical follows the story of failed rock star Dewey Finn, whose career as a musician did not materialize, and has now become a school teacher instead.
Get a quick idea of ​​what to expect from this musical in the trailer below:

Without a doubt, this is a solid choice if you are in London with children and would like to see a legitimately good musical that is entertaining for adults and children alike.
Read more & buy tickets for School of Rock here.
Other musicals in London include: Jersey Boys, Motown, The Woman in Black, Peter Pan Goes Wrong and many more.
To get the full picture I recommend you follow one of the links I provided above and then, once you get to the front page of the site, you can use the search function to find out which musicals are on when you are in town.
Alternatively, you can use the following trick to give yourself the opportunity to save good money by getting the cheapest tickets possible to a variety of musicals in London.
Cheap last minute musical tickets in London's West End
If you haven't set your eyes on a particular musical in London, you can choose not to book your ticket in advance and instead buy a last minute musical ticket for a West End show.
The most popular musicals are, however, very often sold out – so if you want to see one of the most famous London musicals, then my recommendation is to buy your tickets from home as soon as possible.
Because if you wait until last minute you may be unlucky and the most popular musicals will be sold out – especially if you're in London at the most popular times of the year ie. in the holiday season.
However, my experience tells me that it's very uncommon that all musicals in London are sold out. There are simply so many different theatres around the West End with shows on every night.
So there's a pretty good chance you might be lucky and get last minute tickets to the popular musicals in London's West End.
Here's how to buy them.
Buy last minute tickets here
My favorite provider of West End musical tickets has a special 'last minute' section, where you can choose tickets for 'today', 'tomorrow' and 'this week'.
Click here & see the 'last minute' tickets section
There you will automatically be presented to the musicals for which last minute tickets can be purchased for today, tomorrow and the rest of the week.
It's a very smart way to go and see a West End Show if you're in London and not actually had planned to see a musical. Or if you sit at home and are planning the last details (or the first :-D) on your trip to London.

On the website you can either choose to print out your tickets or you can pick them up at the theatre before the show. So you can easily buy last minute tickets if you're already in London and you don't have access to a printer – just pick up your tickets at the theatre on the day of the show.
You can often save up to £20 per ticket when you buy these cheap last-minute tickets. However, let it be said one final time – my recommendation is still to buy a regular ticket from home if you are itching to see a particular musical.
London is, as mentioned earlier, one of the most popular cities in the world to go to the theater in. Naturally, it is not every day that these last-minute bargain tickets to musicals are available.
On the other hand, here is a unique opportunity to make a spontaneous last-minute decision to see a musical when you are in London and add yet another great experience to your city break.
Enjoy!