In this comprehensive guide to the sights and attractions of London, I provide recommendations to all those traveling to London, looking to experience the city's best and most well-known sites.
I describe both the things to do that are free as well as those that cost money. You can typically save money by buying tickets for the paid attractions in advance – in these cases I will provide a link to purchase tickets, so you can get a head start on planning your trip to London from home.
Let's get started with the guide to the best things to do in London.
London Eye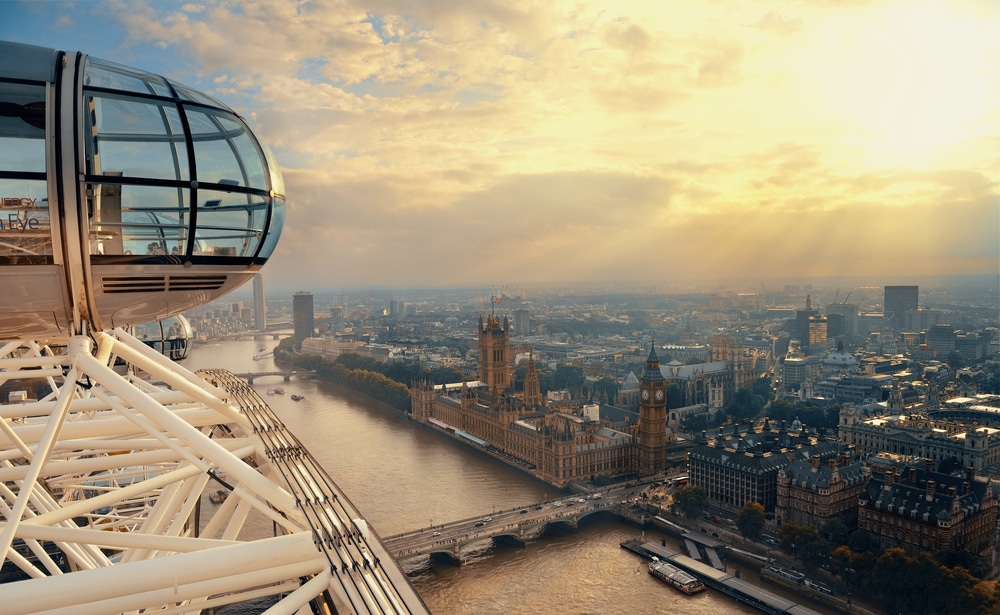 It's impossible to create a guide to the sights of London without mentioning the London Eye. Indeed, it's with good reason that the London Eye is one of the most visited attractions in London. The huge observation wheel, located on the south bank of the Thames, provides a brilliant view over the whole of central London.
The view includes famous buildings such as Big Ben, St Paul's Cathedral and Tower Bridge. On clear days you can see up to 40 km away!
Each "capsule" has room for 28 passengers, so if you are as a family, you can rest assured that there is room for everyone to be together on the loop – which takes about 30 minutes.
Buy tickets for the London Eye in advance!
The only drawback of taking a ride in the London Eye is that it's an extremely popular attraction, so there is always a long queue. This can be remedied by purchasing a fast track ticket online.
Tickets to the London Eye cost £22.50 when you buy them online (cheaper than buying on the day), but I recommend to anyone who wishes to avoid wasting a lot of time standing in line to buy a fast track ticket.
I have been to the London Eye twice – once with a regular ticket, and later with a fast track ticket. The fast track ticket to the London Eye skips the long queue and allows you to go directly onboard.
Fast track ticket to the London Eye cost £31.50 and it's definitely money well spent. Less time standing in line gives you more time to for the rest of the city and its numerous attractions.
Buy tickets for the London Eye at VisitBritain.
Musicals in London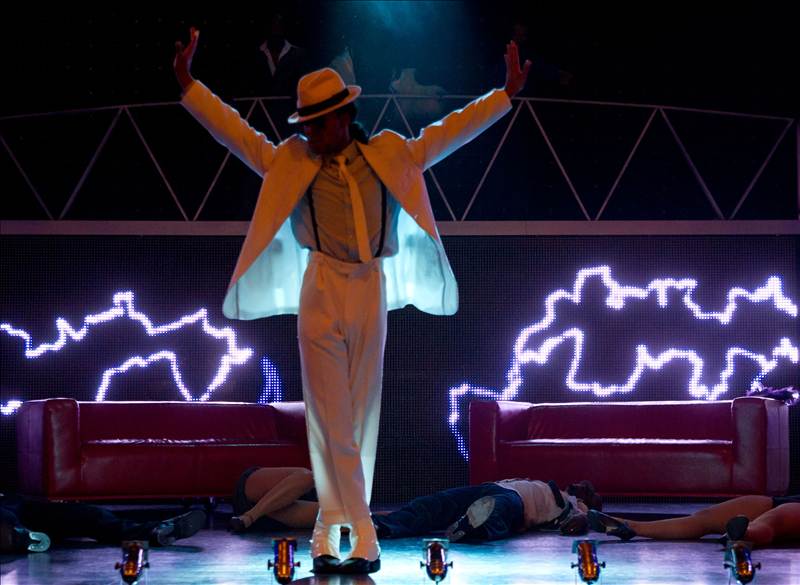 Not a specific attraction, but a unique experience in London. London is world renowned for having some of the best musicals, and the West End of London has countless charming theatres where fantastic musicals are on every day.
If you have even the slightest interest in musicals or theatre, then you should take in a musical on your visit to London.
The tickets must be purchased from home if you want to see a particular musical – they will actually sell out during busy periods in the town, which is almost always the case. However, it's also possible to be lucky to buy last minute tickets to musicals in London.
The website London Tickets is where you can both check the musicals that are playing right now, and buy tickets for them – check out the section for last-minute musical ticket today, tomorrow and this week.
Read my extensive guide to musicals in London.
Harry Potter's London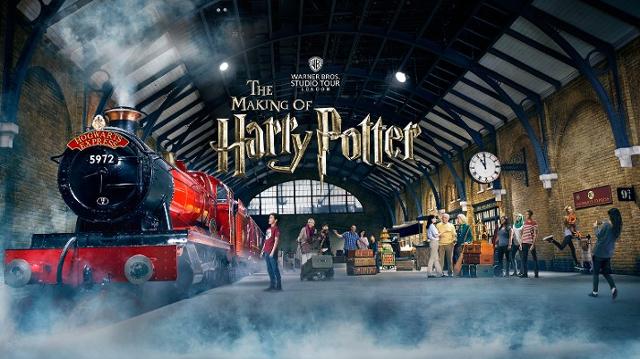 If you're not a fan of the Harry Potter universe, you may be forgiven for skipping to the next section. But if you, like me, are a big fan of the wizard from England, then you should start looking forward to your next trip to London.
For there are many Harry Potter-related attractions in the English capital: A dedicated Harry Potter sightseeing bus ride, a Harry Potter Walking Tour and then also Platform 9¾ at King's Cross Station just to name a few.
But just outside London is the real Harry Potter mecca; Harry Potter Studios. Where you can step into the magical universe and walk around in the sets and soundstages from the movies. Highly recommended!
Remember to book tickets for Harry Potter Studios in advance – they will sell out.
You can read more about the studios in my huge guide to Harry Potter's London.
Boat ride on the Thames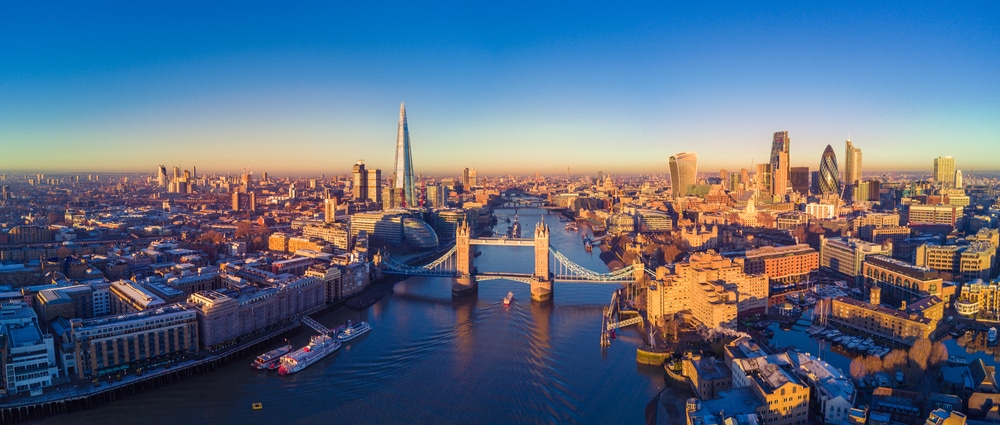 This is something I never get tired of and I always try to fit one in when I'm in London. There is something very special about them that gives one a unique impression of how ever-changing London is.
Combine your visit to the London Eye with a boat tour – all boats sail right past the Ferris wheel. I have written a thorough guide to boat trips on the Thames to help you find the best fit for your needs.
Read more about the best things to do in London at Destination Well Known.
Madame Tussauds London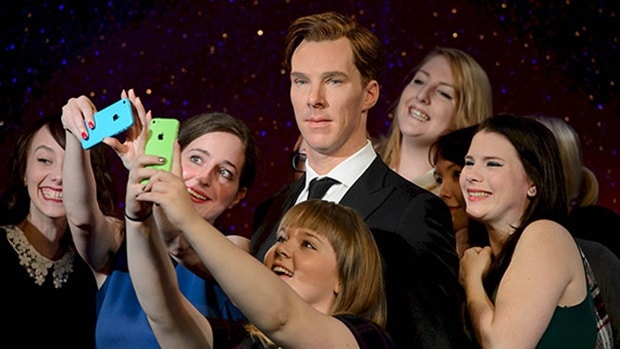 You may already know Madame Tussauds wax museum from other cities in the world. Madame Tussauds in London is the first of its kind and it has been in operation for a long time, since the museum first opened its doors in 1835.
Madame Tussauds is a wax museum where you can "meet" a variety of celebrities and famous people. Well worth a visit for the whole family. Like many of the other sights & experiences in London mentioned in this guide, I strongly recommend to book tickets to Madame Tussauds well in advance.
Why you should do that, and much more, you can read in my guide to Madame Tussauds London.
Brick Lane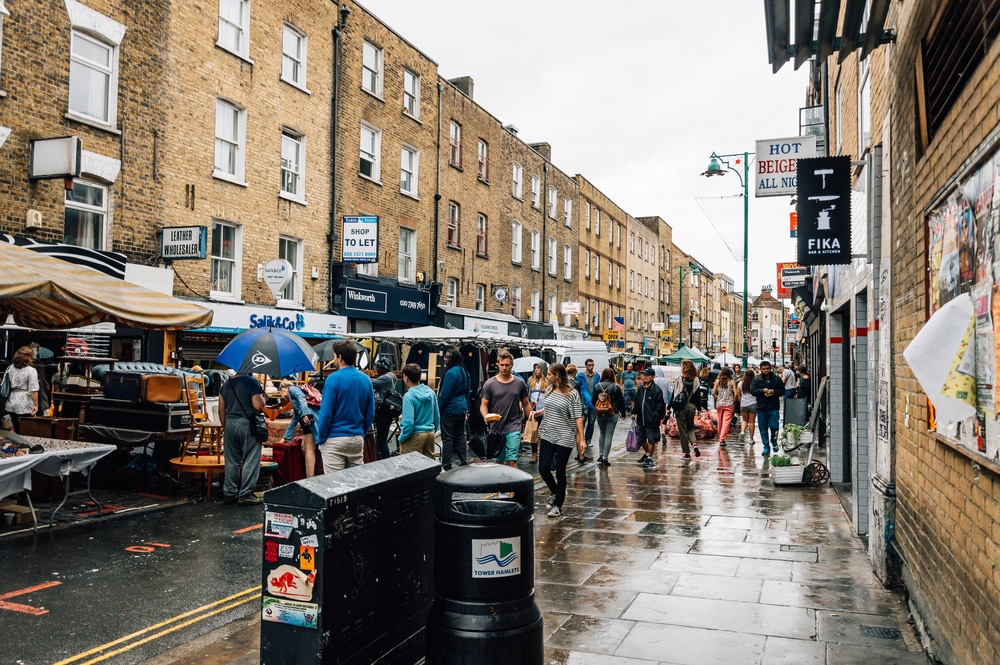 Brick Lane is 'just' a street in east London. But in recent years 'Brick Lane' has become a destination in itself for young people traveling to London to experience that unique, trendy, hipster London vibe.
To be fair, the so-called 'real' London hipsters are probably long since departed the Brick Lane area (and north towards Dalston, Hackney and Stoke Newington), but there is still much cool left in Brick Lane and the rest of the Shoreditch area.
Brick Lane is multicultural, trendy and host to many good Indian restaurants.
Read more about Brick Lane here.
Tower of London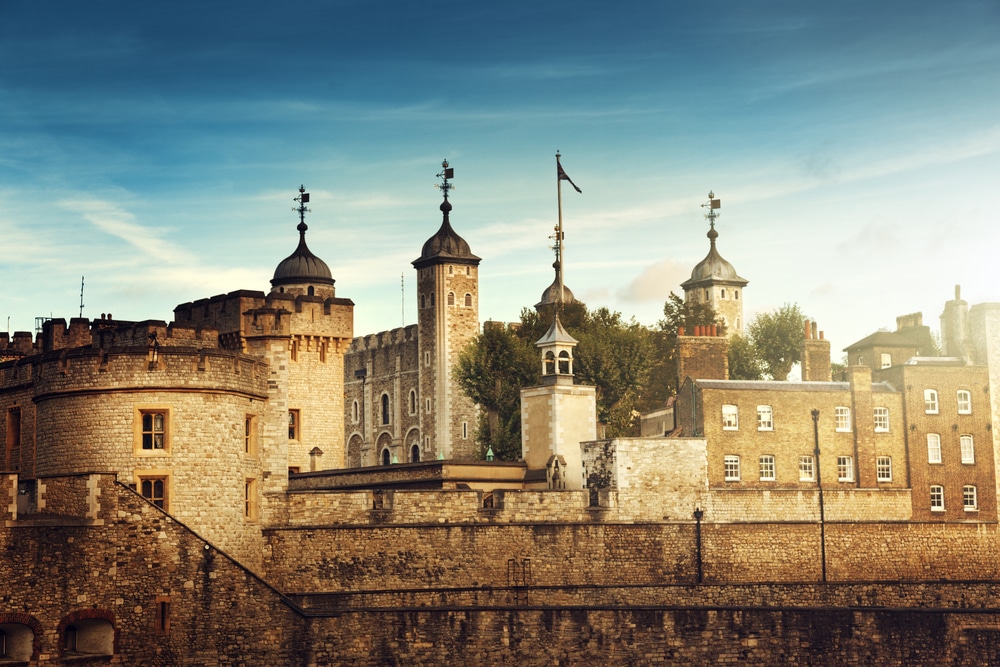 From London's East End, heading south from the trendy Brick Lane to the Thames embankment, we find the impressive Tower of London.
The Tower of London is a castle that was founded back in 1066. The tower has most recently been used as a prison. Two well-known East End villains, The Kray Twins, were among the last who were imprisoned there.
The tower of London remains a royal palace, but functions primarily as a tourist attraction and is home to the British crown jewels, which are an attraction in their own right. The tower of London and Tower Bridge, which is right next door, are indubitably one of those sights that feature in many people's bucket lists.
You could just view the Tower from the outside, but for the full experience make your way into the castle.
Buy tickets to see the crown jewels and experience the Tower of London here.
Skygarden or The Shard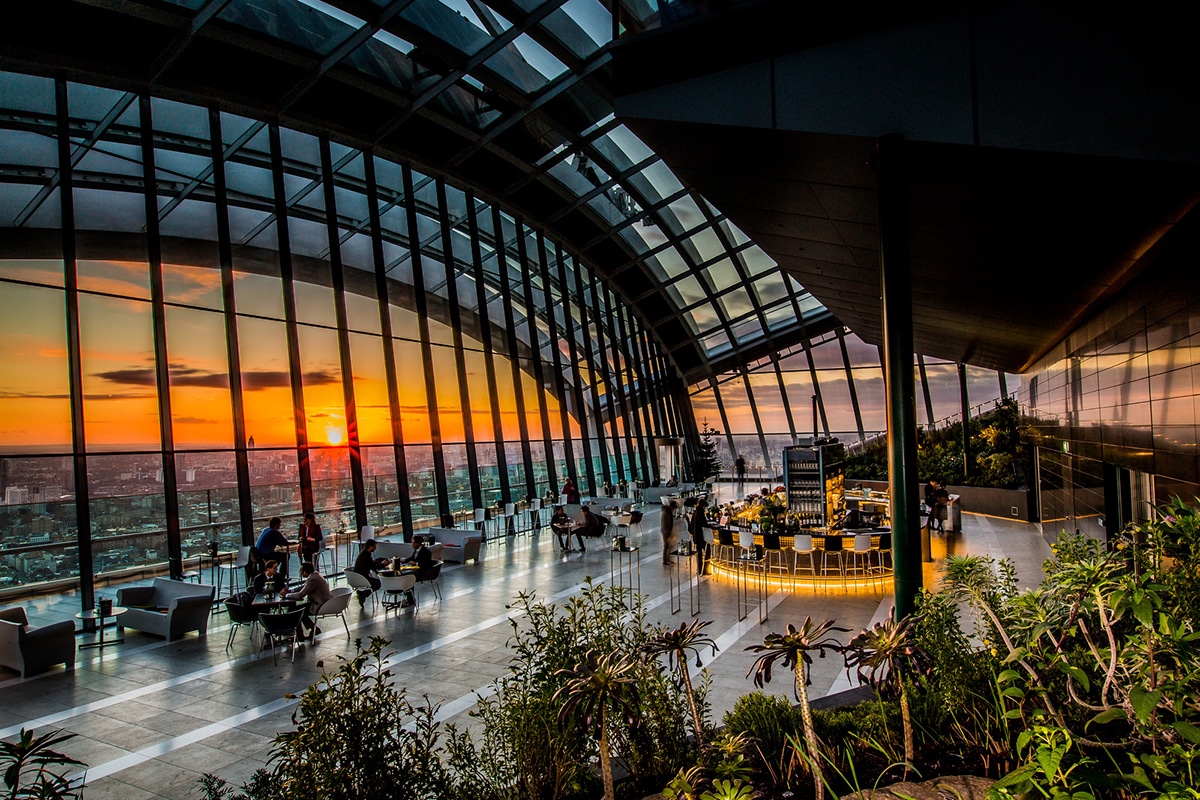 There are a number of splendid vantage points in London where you get a brilliant view over the city. The previously mentioned London Eye is the most well-known, but if you're more into a conventional experience I would recommend either Skygarden or The Shard.
Skygarden is a free 'public garden' where there is a bar and a large area where you can sit or walk around and enjoy the views out over London. Skygarden is located near the Tower of London, so the two sites can easily be combined.
A free ticket to Skygarden must be 'purchased' in advance – read more in my guide to Skygarden here.
If you prefer a more elegant setting for your viewing experience, you may want to cross the river to the south of London and take the elevator up The Shard. There are several options, since there are, among other things, many a number of bars and restaurants in the tall building.
You will enjoy a particularly nice view of London, but be aware the prices match the setting, it costs about £26 just to get up to the top of the building.
Find more information on The Shard's website.
Buckingham Palace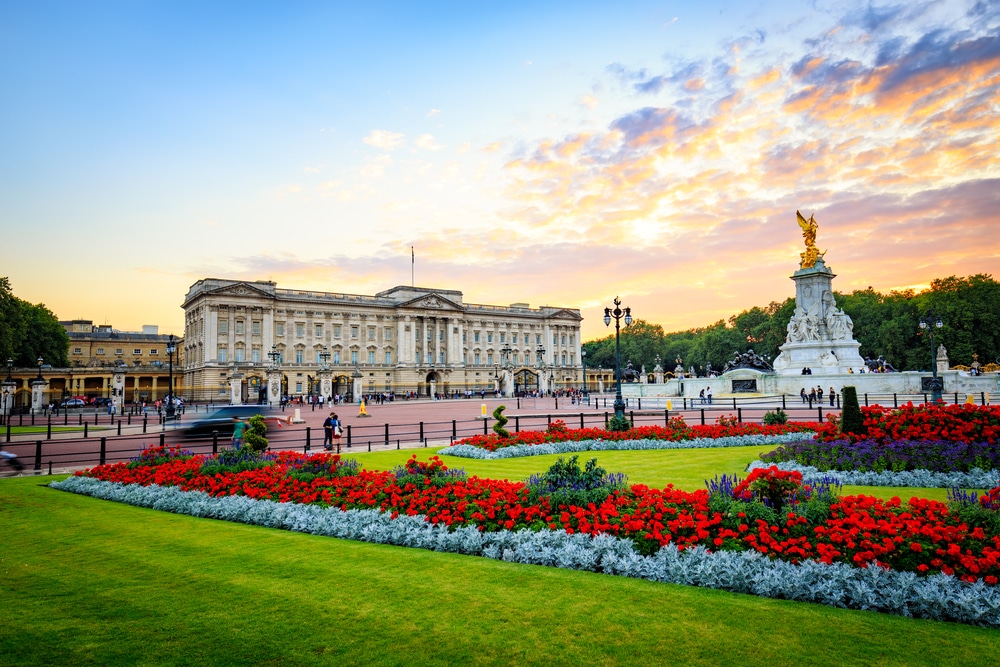 Want to see where the Queen of England lives? She lives in Central London, so it would almost be a shame not to pay her a visit on your city break to London.
From the outside, one can get a fairly good impression of the palace, but by far the most interesting part of this attraction is the changing of the queen's guard. Typically, these takes place in the morning between 10:15 and 11:45, but always check up on this before you go to the palace, as it may vary.
Read more about the changing of the guard times on the official website here.
It's also possible to experience Buckingham Palace from the inside, but there are limited opening hours:
Opening times
 

22 July – 31 August 2017

Open daily 09:30 – 19:30

(last admission 17:15)

1 September – 1 October 2017

Open daily 09:30 – 18:30

(last admission 16:15)
If you are traveling to London during the period Buckingham Palace is open for visits, you should be there on time and make sure you book your ticket in advance.
Buy your tickets to visit Buckingham Palace here.
Tickets to Buckingham Palace cost as follows:
| | |
| --- | --- |
| Adult | £23.00 |
| Over 60 / Student (with valid ID) | £21.00 |
| Under 17 / Disabled | £13.00 |
| Under 5 | Free |
| Family (2 adults, 3 under 17s) | £59.00 |

Sightseeing bus tour in London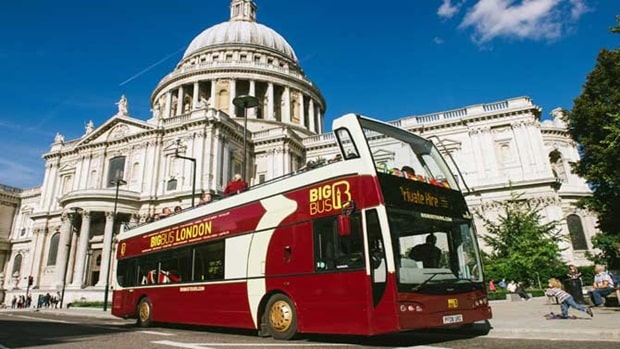 If you would like to see as many sights in London in as little time as possible, then it's possible to jump on one of the dedicated sightseeing buses, of which there are many in London.
I usually recommend Big Bus Tour of London as it includes a free boat trip on the Thames, their buses run every 5-20 minutes and the bus route includes all the best-known attractions in London.
Read more about sightseeing buses and buy tickets here.
You can easily take in many of these sights on foot. I would not exactly advise against taking a sightseeing bus tour in London, but will say that it can be much cheaper to just buy a Visitor Oyster Card and then get around using London's regular city buses and other public transport.
With a Visitor Oyster Card a bus ride costs only £1.50 no matter how far you go, this is an opportunity to save some money by traveling as the locals do.
Westminster Abbey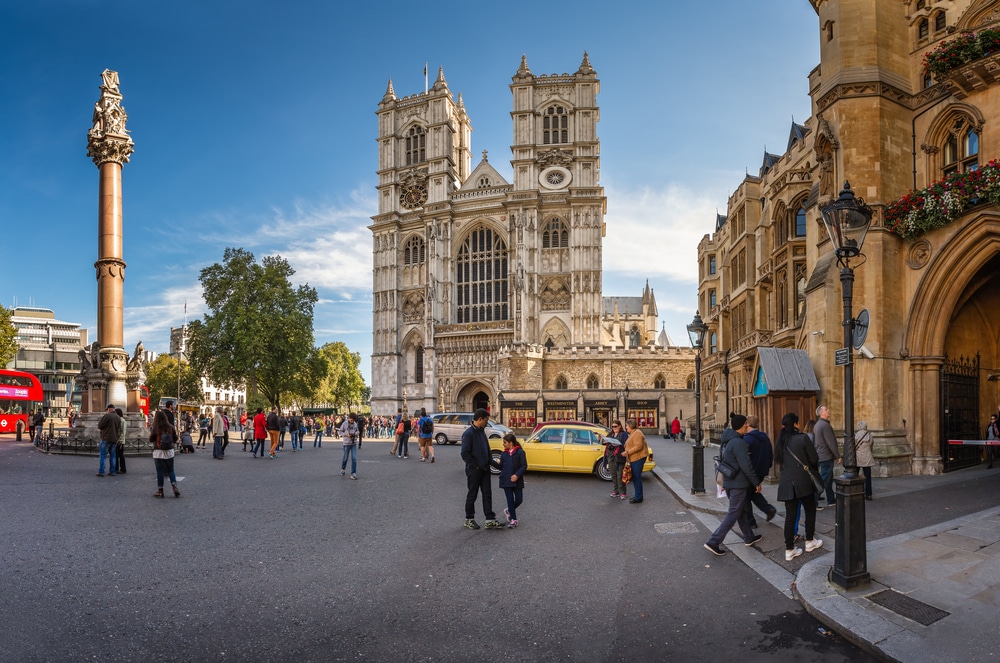 The gothic church, Westminster Abbey, derives its name from the district in which it stands. This district is also home to the aforementioned Buckingham Palace. Westminster Abbey was originally built between 1045 and 1050 AD, while the construction that stands today was built in the 1200s.
If you have even the smallest interest in architecture, you need to schedule a stop at Westminster Abbey on your trip to London.
The church is not just a masterpiece; it also plays a central role historically. It's the site of many of Britain's biggest events such as coronations or royal family weddings. The most recent being Prince William and Kate Middleton's marriage.
Westminster Abbey is designated a UNESCO World Heritage Site.
A ticket for Westminster Abbey costs £20 and you can buy your tickets at VisitBritain here.
Palace of Westminster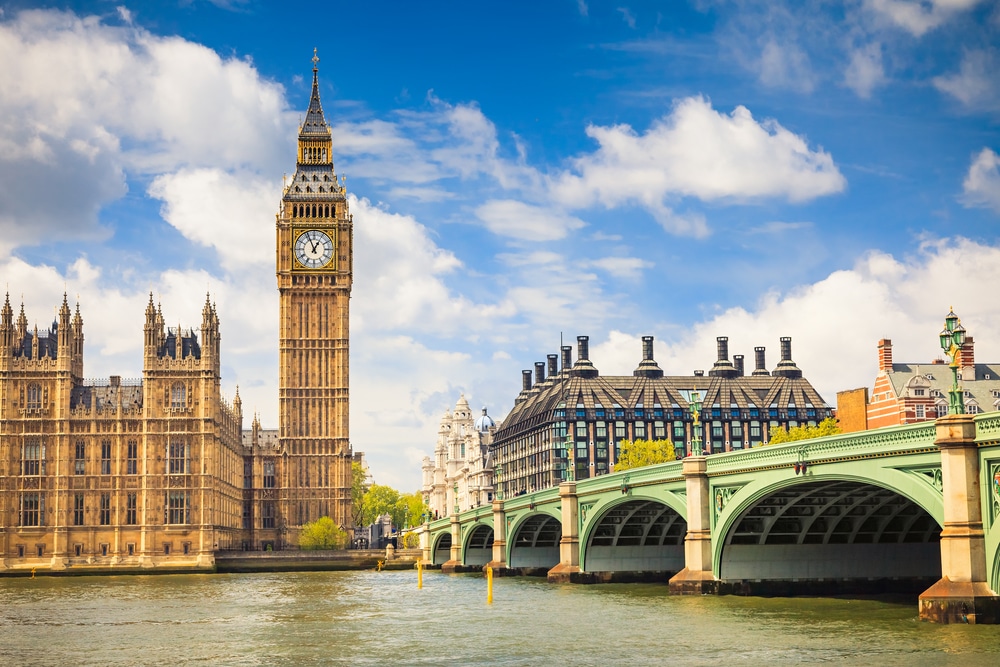 After the visit to Westminster Abbey, there's no need to take more than a few steps before you encounter the Palace of Westminster, the building where the British Parliament is housed. It's here that the House of Lords and House of Commons convene.
The Palace of Westminster is perhaps London's best-known landmark and is well worth a stroll outside. And yes, that is the bell tower housing 'Big Ben' rising above the Palace of Westminster.
It's also possible to get inside the doors, read how to on their website here.
St Paul's Cathedral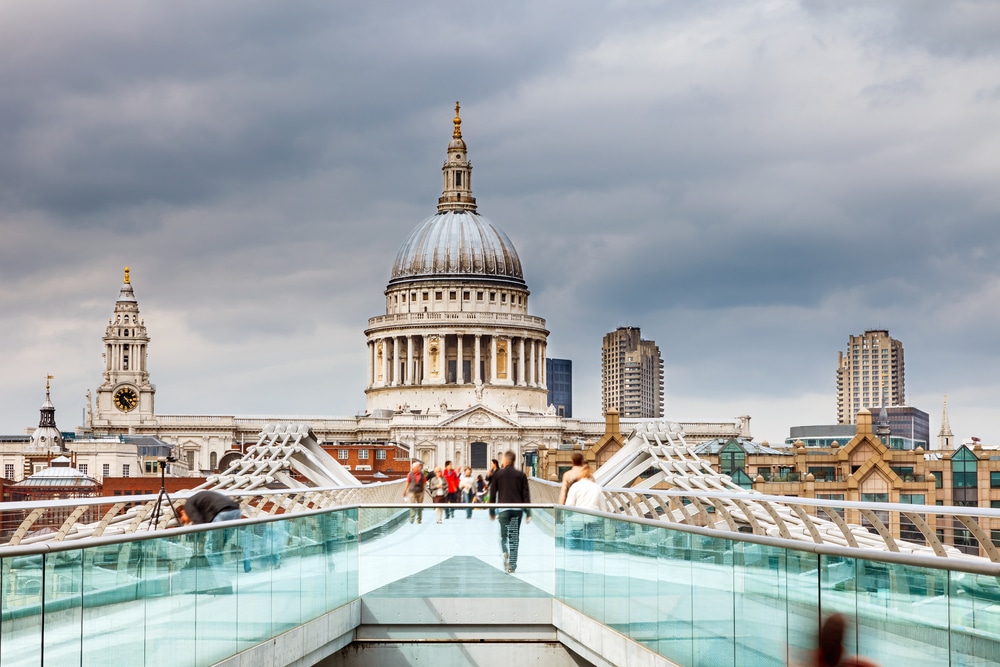 Earlier in this guide to London's best sights I mentioned a few places where you can get a spectacular view of London. If you want to combine a good view with some culture, then you should consider visiting St Paul's Cathedral.
Instead of writing a lot more about the church, I would much rather just play this video containing an excellent introduction to St Paul's Cathedral, letting you know what to expect from the visit:
Tickets to St Paul's costs £16 for adults and £7 for children. Fast-track tickets, which can save 10% compared to buying on the day, can be purchased at VisitBritain on this link.
Football stadium tours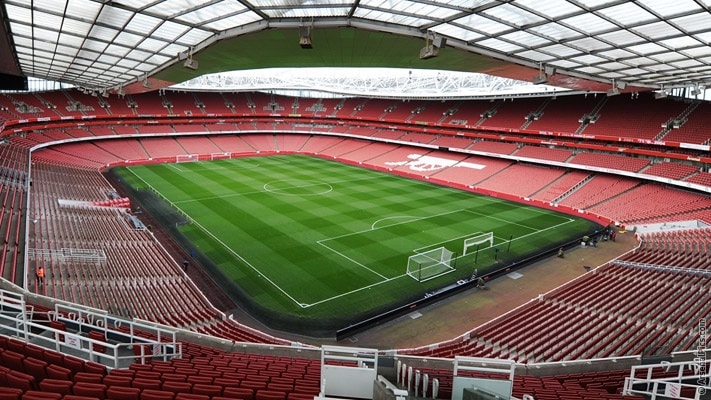 London is home to some of the most successful football clubs in England and there are a lot of beautiful, impressive stadiums in London.
Most of these stadiums are open to visitors when the home team is not playing. Football matches in England are notoriously expensive, but even if you are not ready to spend large amounts of money to watch a game, it's still possible to visit various stadiums in London – and even see much more than you would be able to on a match day.
I have compiled a list of stadium tours in London worth checking out. Click the link and read more about the given stadium tour:
Other known football clubs in London include West Ham (now playing at the Olympic Stadium), Fulham, Millwall, Crystal Palace, Brentford and Queens Park Rangers.
Free museums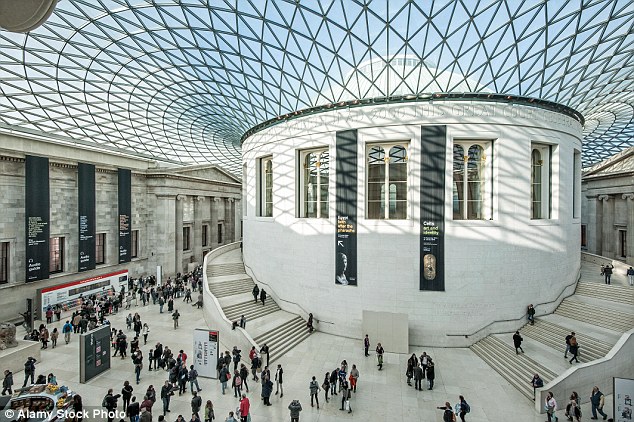 London has a large number of museums with free access. For example, London's Science Museum and the Natural History Museum. They are both located in London's West End and only a few hundred meters from each other, so if you want to visit the two museums on the same day it's quite straightforward.
Read more about the Science Museum here and read more about the Natural History Museum here.
And then there is, of course, the British Museum. If you only visit one museum on your trip to London, I strongly recommend it's the British Museum, which is also free. The British Museum has been around since 1700 and is considered one of the world's largest and most important museums.
Read more about the exhibits that are in the British Museum right now on their website here.
Markets in London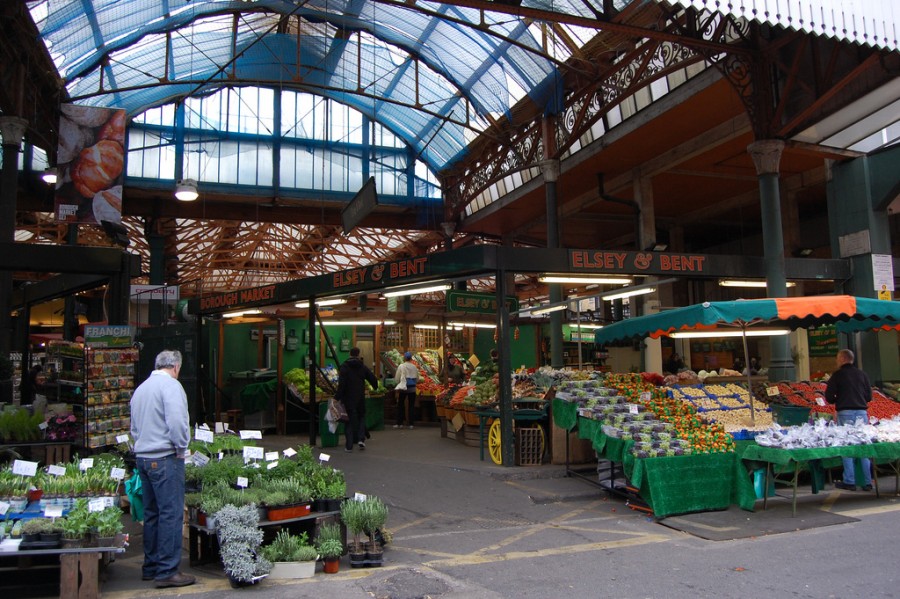 London has many good markets to offer. My personal favorite is Borough Market, which is a food market located on the south bank of the River Thames and near London Bridge. Read more here.
Additionally, there is the ever-popular Camden Lock Market, which attracts thousands of tourists every day. Camden Lock Market is for the more alternative types, so if you want to buy a The Libertines t-shirt, a cool spiky leather bag or some really spacey clothes for a techno party, this is the place for you.
And even if you are not looking for those things, the atmosphere in the market area is still worth experiencing. Be aware, the place gets quite uncomfortably crowded in the weekends so I recommend you plan accordingly and arrive during a weekday.
Check out this cool video and get a sense of what it's all about in Camden Town:

There is also the legendary Portobello Road Market, which takes place in the beautiful Notting Hill area. See more of London's markets on this list.
I wish you an amazing trip to London!
If you have any questions about sights and things to do in London when please just write a comment below.